Some friends have asked me questions about Bluetooth, like what's so good about it?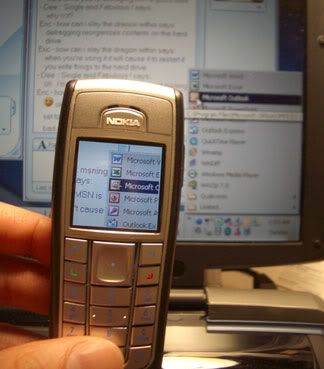 Controlling my laptop from my bluetooth enabled phone
I'm sure everyone has seen a bluetooth headset on someone's ear. One of the most popular headset is the Motorola HS-810 since Rogers stores carry them.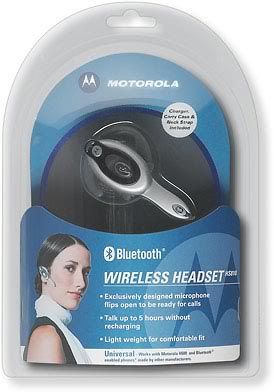 So with bluetooth you can use a headset without wires, but what else can I do?
Let me tell you some of the common uses of bluetooth with your phone.
You can transfer files to and from your phone
Surf the internet using a shared connection
Control your computer (Great for navigating PowerPoint presentations)
Print images on your phone to a bluetooth enabled printer
Share videos, music, and photos with other bluetooth enabled devices
Synchronize data from your phone to your computer like Outlook e-mail and calendar
Play competitive games against other people over Bluetooth
There's a lot more possibilities with Bluetooth but it's up to companies to develop the Bluetooth profiles that will benefit the consumer. The main hurdle with Bluetooth is consumer awareness of the benefits and the lack of phones supporting Bluetooth. Currently, only Rogers and Fido carry phones with Bluetooth (V3, V551, 6620, T637, S710, P910) and these phones are relatively expensive compared to non-bluetooth enabled phones. This is slowly changing as you can get the 6620 for free on a new 3 year contract. Bell and Telus have been shying away from Bluetooth phones as they allow file sharing, something they don't want you doing as it circumvents their data and email services. If they do have a Bluetooth enabled phone like the V710 on Telus, the file sharing profile has been disabled or restricted. I recommend Rogers to all my friends unless they live in the states. It would be nice to be able to send my contact to a friend, play a game of snakes against them, and even let them browse my phone from their phone for ringtones they like. I hope your next phone will have Bluetooth.