I like getting new gadgets and this weekend started with a letter from Rogers Highspeed about getting a new DOCSIS modem when I return my old Motorola modem. I had to go to the Rogers Store at Bridlewood Mall (Warden and Finch) since it was one of the listed participating locations. I haven't been to this mall since Towers shut down. Towers had the best toy prices with GI Joe figures at $3.99 and Teenage Mutant Ninja Turtles at $4.99. So at the Rogers store, a line at already started:
I looked at cell phones while I waited. They had a lot of featureless phones such as the The LG 4015, Motorola V180, Samsung X426, and Nokia 3120. Thankfully it was fast since most people were there for the same reason as me and no talking was required.
Here's my new Motorola SURFboard SB5100 DOCSIS modem: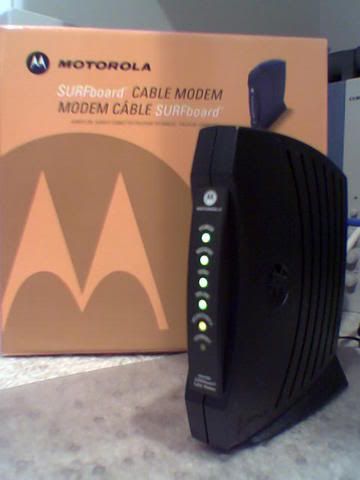 I think it's rated at 3Mbps while my older modem was at 1.5Mbps. I got a new IP address from the Rogers DHCP servers and it did seem faster.