I got off work "early" (only in comparison to my usual) so it was 6pm and prime rush hour traffic so I dropped by the nearby Parkway Honda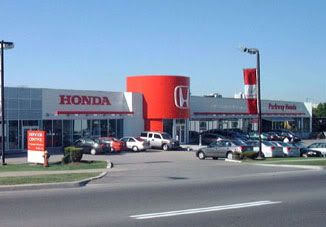 When I went inside, I took a quick glanced, quickly took a look at the front of a new 2005 Civic Si Coupe. With the body kit, it looks nice. Then quickly went to the main target. The 2005 Honda Accord.
I was quickly greeted by Katy, the receptionist there, and we chatted for a bit. A sales person arrived a bit later since none were around at the time I was taking a look around. Quickly introduced himself to me as Rick and we got to discussing what I was looking for and what cars would suit me. We talked about driving "feel" so we quickly got to arranging a test drive. Before going to grab the license plate, he showed me the Accord EX but I wasn't into leather and what it offered. He came back and we were off in a new 2005 dark grey Accord automatic. He took me around the back industrial area and told me that he would also let me try the highways but it'd be at that time. We went for a couple circles and even got me doing acceleration and breaking tests. Needless to say, I was not use to slamming the gas or breaks on a real car. We came back talking about the feeling of the car. He showed me his office, quick numbers. Talked about what I really wanted, showed me this spyware his computer had, and we arrived to the conclusion I wanted an Acura TSX. It was 7:45 when I left and I had been there since 6:15. It was a great experience. Never did he pester me to buy the car or some other Honda. If you're looking for a Honda I recommend Rick at Parkway Honda. My next car will probably from him if the price is right.