I went to work out after work today. You know, I hope one day I'll be so in shape that I don't have to tell people I work out but will know I work out after looking at me. Well, till that day comes I'll be saying it again and again. So I notice everyone has their headphones in their ear and even the TVs have an FM frequency you can tune into to listen to TV. I want a radio too.. and my phone has that ability except I was missing the headset. So after my work out I drove to Pacific Mall to go pick up some fakes. I figure that I might get ripped off a bit but the internet isn't any cheaper. On the telus web site they're selling for $44.99 for the HS-3 fashion headset: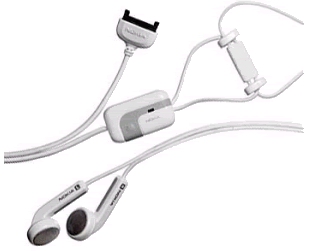 But I don't really need the fashion ones if I can make due with the regular ones. I found the fashion ones on the net for $2.99USD but with 13USD shipping so that comes out to $21CDN and the seller won't even reply to tell me if they're OEM (real) or fakes. Then there's the regular ones that cost $8.99USD with $11 shipping. Which also makes it the same price as the fashion ones.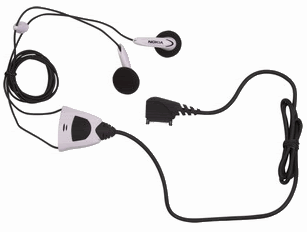 I didn't want to worry about it getting to me and worry about customs and Canada Post handling fee. Might as well try pmall. So I go around to all the big stores that sell only cell phone accessories near the window facing Kennedy. Nothing. The mall is already closing and many shops have already closed to I walk quickly to get to the windowless side where the shops are smaller and there's the 2 cell phone shops. I found a shop that was open and sold accessories. I don't see any for my Nokia. I ask the store clerk who was just done talking on the phone and now talking to his friend. So I ask him "Do you have any Nokia pop-port stereo headsets" while pointing at my cell phone bottom and then gesturing headphones by pointing at my ears. He searchs around his side of the table and pull out HDS-3! I ask him if it has radio and it points at the base and says it does. I pay him cash and quickly walk out. Trying them on my phone, it works! Too bad can't get any radio signals in there. So I try a few of my music videos on my phone and they work. So happy. So here they are on my phone: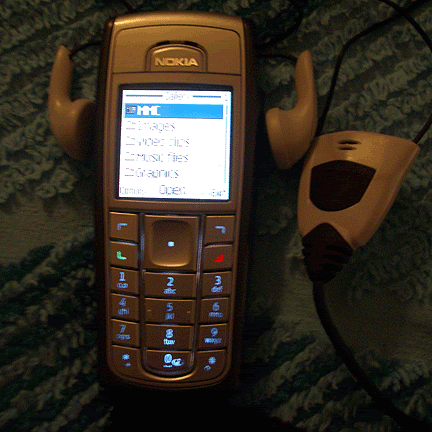 Maybe someday in the future I'll be able to buy the fashion ones and get a bigger MMC card for my phone to store more MP3s and videos. Maybe an ADP 512MB-1GB or KingMax 512MB-1GB. Need to go shopping less now. I'm glad we have pmall. I don't know where I'd go with out it. We wouldn't have Canada Computers, all that food, and cute gifts for girls.