Nothing much has happened in the last few days. Been busy with either work, umm... work? oh yeah and working out. Did some catching up today and I'm trying to sell my Pentium 3 computer w/ scanner: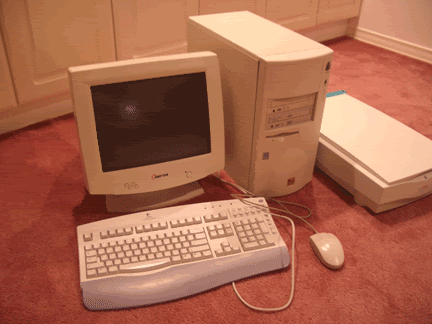 Specs are:
Intel Pentium 3 @ 500MHz
15 inch .28 Daytek SVGA Monitor
128MB SDRAM DIMMs @ 100MHz
13GB ATA/66 Quantum IDE Hard Drive
32MB ATI Fury Graphics Card with TV OUT!!
5X DVD/CD-ROM Drive Creative Labs
8x4 CD-Writer Panasonic IDE
Panasonic 3.5inch 1.44M Floppy
Motorola internal 56K Voice Modem
Sound Blaster Live Value Sound Card
UMAX 1220S Scanner capable of scanning legal sized paper
Logitech Keyboard and Mouse
QDI 440BX Motherboard
250W ATX Power Supply
If you're interested, send me an email to soul_with_heart [at] hotmail.com. That email address has served me so long. I'm always wanting to change it but email addresses are so stickly. But if I never change it, it'll be stuck forever.