So today right after work/work out, I went straight to church for fellowship. It was alright. Tonight was sharing night. I haven't been for a while so everyone was asking me where I've been and some were asking if I was in Waterloo that term. I graduated a while ago and working too. So... it has been a long time.
After church today I noticed this in the sky: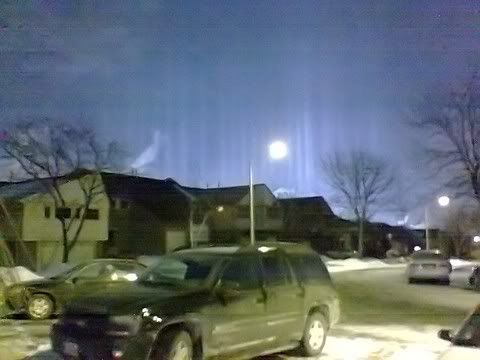 I noticed it first while driving so I thought it was because of some lights being pointed into the sky light the flood lights downtown. But this is scarborough so no one does that here. And I noticed it at different parts of the sky so it had to be some natural occuring thing. Then I remembered watching TV about solar flares that occurred recently and that we should expect to see the Northern lights much better. I thought that meant IF we were up North we'd be able to see them more easily... North as in Northwest Territories. So I was impressed to see them today. Glad I got a picture of it.